Published on
2 August 2023
Wokingham Children's Book Festival returns for sixth year
Thirteen events featuring award-winning authors will be taking place over the weekend of 14 and 15 October
Image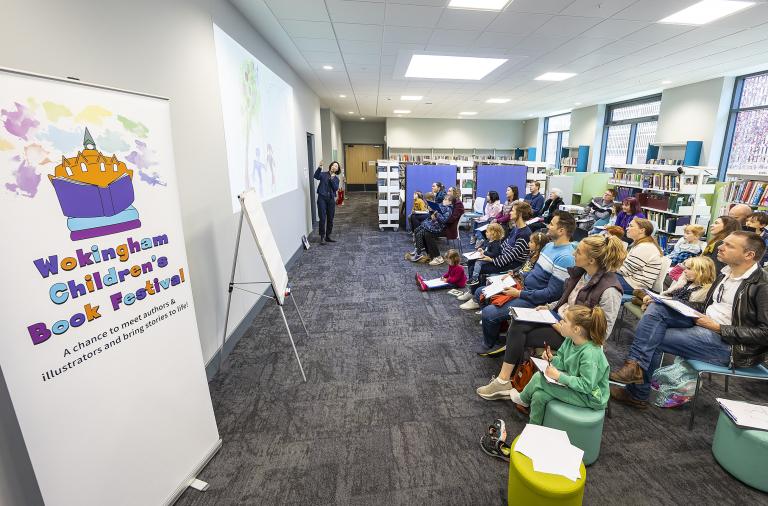 Young book fans get ready as the return of the Wokingham Children's Book Festival will once again see a fantastic line-up of award-winning authors come to town in October.
This will be the sixth edition of the book festival, with a total of 13 events taking place over the weekend of 14 and 15 October.
It is a great chance for young readers and families to experience storytelling in an immersive environment, as well as getting to meet the authors behind some of their favourite creations. Sessions will be held at Wokingham Town Hall and Wokingham Library, with a mixture of storytelling, crafting and singing.
A fun weekend with lots of great activities 
Kicking things off on the Saturday, illustrator Nick Sharratt will be taking over Wokingham Leisure Centre's sports hall at the Carnival Hub with activities for the whole family to enjoy.
From 10am, the picture book author will encourage you to get 'super silly' as he takes you on a guided tour of the most magnificently silly museums you will ever visit. The event is based on his book Super Silly Museums, which was released last year, and guarantees a session with lots of laughter and creativity. All you have to do is bring drawing things, paper and something to lean on.
Image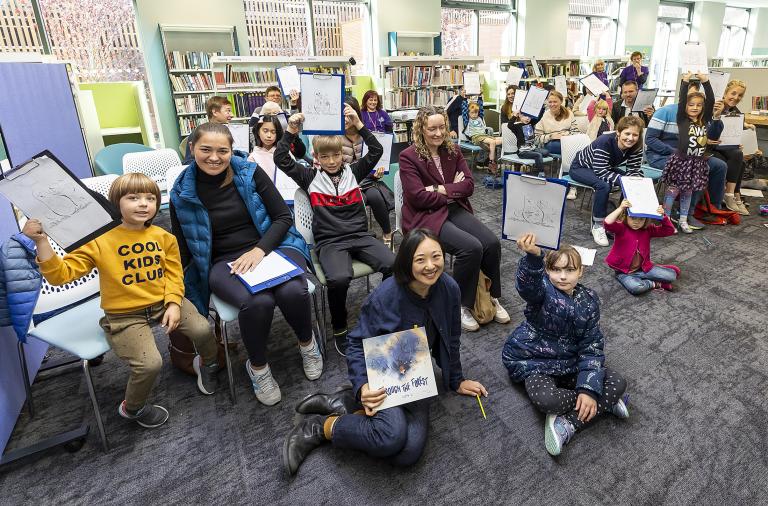 Holly Webb, one of Britain's best-loved children's writers and a regular of the festival, will get things underway at Wokingham Town Hall on the Sunday. Holly, who lives in Berkshire and has written more than 150 titles for children, will be discussing her new book The Railway Kitten.
Comedian, podcaster and presenter Iszi Lawrence will take children on a search for Blackbeard's treasure, while multi award-winning Jane Elson is giving a dramatic reading of Storm Horse, where children will be sworn into the Secret Horse Society and explore the gift of dyslexia and celebrate neurodiversity.
Cllr Barrie Callender, chair of the Arts and Culture Committee of Wokingham Town Council, said: "Books have been a huge part of my life, from an early age, but I have never been to a book festival. That is going to change, as I am really looking forward to attending as many events as I can on 14 and 15 October. The opportunity to engage with authors and illustrators is bound to thrill the children, and let's be honest, their parents, guardians and carers as well. We can all lose ourselves in the sheer joy of books along with the authors and illustrators that turn words and pictures into something special, never to be forgotten."
Cllr Sarah Kerr, executive member for climate emergency and resident services at Wokingham Borough Council, said: "It looks set to be another fantastic year for the Wokingham Children's Book Festival and I can't wait to see lots of children being inspired by the brilliant line-up of authors coming to town. There is a wide variety of events to enjoy and I'm sure it will be another successful year for the festival, which has been a favourite for many since it started in 2018."
Also joining in the fun this year will be...
• Fiona Barker will be introducing Fox's Favourite Autumn during a session that will include not only a storytelling, but also singing and crafting
• Local author Clare Bevan is giving an entertaining talk using all sorts of sounds and strange characters, taking inspiration from her recent books
• James Carter, an award-winning children's poet, non-fiction writer and musician, promises a highly interactive and lively talk as he shares the story of The Beast Beneath our Feet
• Author of the Izzy the Inventor books Zanna Davidson will encourage you to get your thinking caps on as she inspires you to come up with your own ideas
• Nizrana Farook, the author of The Boy Who Met a Whale and The Girl Who Lost a Leopard, is talking about A Journey Through the World of Serendib
• Join children's author and performer Gareth P. Jones where you can create your own mystery plot, based on his latest series Solve Your Own Mystery
• Rikin Parekh will teach you how to draw the character from his books including Fly Tiger, Fly! and Yes You Can, Cow!
• Join Georgia Byng in the incredible world of Molly Moon as she takes you through the process of writing your own story
• Ally Sherrick, winner of the Historical Association's Young Quills Award, is introducing us to Vita and the Gladiator, the story of a young girl's fight for justice in London's gladiatorial arena
As ever, the book festival will also feature the popular 'Authors into Schools' scheme, which this year will feature Julia Jarman reading Ants in Your Pants, an interactive talk on folklore from Gabriela Houston, a discussion about football with Tom Palmer and Shiko Nguru will share her love of African culture.
Early birds will find a 15% discount on tickets bought between now and the end of August. Otherwise, tickets remain priced at £3 per person and can be purchased from the Wokingham Children's Book Festival website.
The festival is brought to you by Wokingham Town Council, Wokingham Borough Council's Library Service, Love Wokingham, more arts and some very dedicated volunteers.